Sno Much Fun!
We (my sister, her boyfriend, my nephew and myself) went up into the mountains today to play in the snow! Since winter sort of passed us by 'down here' we decided to go find it and find it we did! With tobogan and inner tubes, we conquored the snowy drifts (mostly ;) ).
We started out first going to breakfast, then started the two-hour drive to the mountain. On the way, we stopped at a scenic water-fall area and took a little hike through the woods. Then it was back in the truck and up the windy road with the snow growing deeper and deeper around us until the wall beside the road was taller than we were!
The day was almost crystal clear, sunny and even warm! I couldn't keep my jacket on, it was far too warm. I even abandoned my gloves rather quickly too. However, my boots and socks and lower half of my legs got soaking wet as I do not actually have snow gear. I really need to get some before we do this again.

All in all, there was no a thing wrong with the day.

If I had to sum up the day in a single picture, this would be it: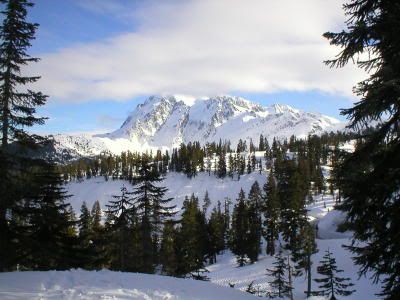 It was one of those 'perfect' days with family - doing things together. I got lots of short movie clips, one of my nephew doing a great wipe-out on the tobogan. I might post the link to that later (i.e. as soon as I figure out how).