I'm a Snap Dragon!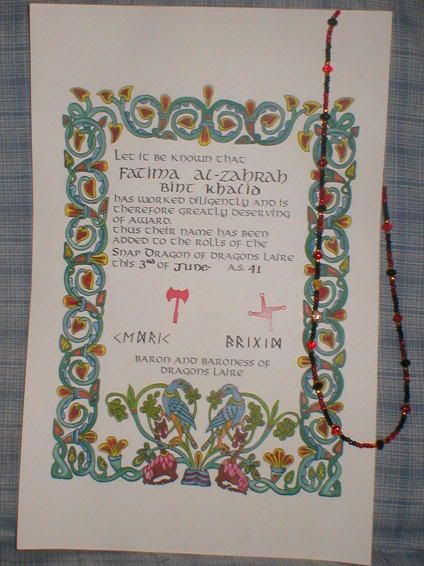 Yep, that's mine! Their Excellencies presented this to me Saturday. My friends are far too skilled at keeping the secret!
For those who can not read that little picture, it says
Let it be known that Fatima al-Zahrah bint Khalid has worked dilligently and is therefore greatly deserving of award. Thus their name has been added to the rolls of the Snap Dragon of Dragons Laire this 3rd of June, AS 41.
*grin*
I was called up in court much without my knowledge and was shaking! LOL I guess I was sorta nervous, Baron Cedric had to extract his fingers from my hand once. *giggle*
Anyway. For those who are now utterly *clueless* what I'm on about here (or possibly just what I'm on) I am a member of the Society for Creative Anacronism, my society name is as mentioned above, and I got a service award for one of the Baronies in my area for.. uh.. service. Yeah. :)
The weekend was truly a wonderful one, it was good to get out of the house and be among friends new and old. The weather was perfect for it. The fighting was well fought. The food, delicious.
All in all, it was a fabulous weekend, and I can't wait to do it again, as always.